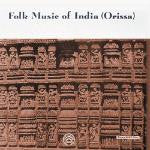 Folk Music of India (Orissa) LAS-7183
---
---
Digital Download available from your favorite site including
Download free liner notes below
Part of the Lyrichord Archive Series - Never before released recordings on CD from the Lyrichord vaults

This intriguing recording made in 1973 by internationally acclaimed ethnomusicologist Dr. Rosina Schlenker, is a comprehensive journey through the music in the Indian caste system. The history of Indian culture is determined by the caste system which gradually developed since the invasion of the Aryans, the "nobly-born". The middle castes are the actual center of the Indian music culture, represented by highly developed and refined classical ragas and talas.

Tracks:
1. Salutation Song - 2:28
2. Courtship Song - 2:46
3. Love Song - 3:17
4. Narrative Song - 3:18
5. Festival Music - 2:59
6. Flute with Drum Accompaniment - 2:27
7. Twin Conch-shell Solo - 5:32
8. Wedding Tune - 1:24
9. Wedding Song - 1:19
10. Housework Song - 1:05
11. Saora Christian Song - 1:37
12. Domestic Song - 1:31
13. Dance Drama - 1:10
14. Greeting Song - 2:31
15. Harvest Festival - 2:49
16. Harvest Festival - 1:23


Lyrichord, in association with Multicultural Media, is pleased to present the Lyrichord Archive Series. This series will make many important Lyrichord recordings of the past available again for the first time in years. These are special-edition compact discs with liner notes. illustrations and photographs reproduced as .pdf files, and included right on the same CD as the audio program. These liner notes can then be downloaded and printed out or saved on any computer.

The Lyrichord Archive Series is designed with students, libraries, educational institutions, music historians and music enthusiasts in mind and is not available in stores. 
---
We Also Recommend
---