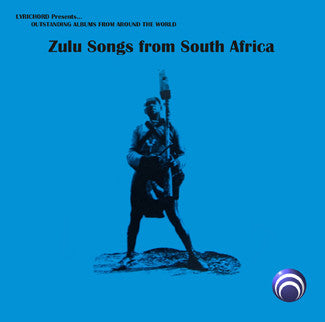 Zulu Songs of South Africa DOWNLOAD ONLY LAS-7401
---
---
Digital Download available from your favorite site including
Part of the Lyrichord Archive Series -

Rare Out-of-Print LP Re-Release on Digital Download Only

 from the Lyrichord vaults
Zulu people are part of the Nguni people in Southern Africa, and their music incorporates the three basic elements of rhythm, harmony and melody, and is seen as 'food of life." Zulu is often cited as the origin of the Delta Blues. 
Tracks:
1. Uyongilobola ngani? 4.03
2. Olwani ujakalwani? 2.10
3. Amadoda kashelani 2.31
4. Sengiyahamba 3.20
5. Molo molo wemkhwenyana 3.08
6. Madoda ngenzeni na? 4.44
7. Ubalwana Iwami 6.53
8. Inkomo iyakhuluma 2.58
9. Uyababona abelungu 3.00
10. Emathanjeni 3.14
Lyrichord, in association with Multicultural Media, is pleased to present the Lyrichord Archive Series. This series will make many important Lyrichord recordings of the past available again for the first time in years. These are special-edition compact discs with liner notes. illustrations and photographs reproduced as .pdf files, and included right on the same CD as the audio program. These liner notes can then be downloaded and printed out or saved on any computer.
The Lyrichord Archive Series is designed with students, libraries, educational institutions, music historians and music enthusiasts in mind and is not available in stores.
---
We Also Recommend
---