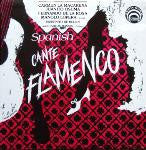 Spanish Cante Flamenco LAS-7363
---
---
Digital Download available from your favorite site including
Part of the Lyrichord Archive Series - Never before released recordings on CD from the Lyrichord vaults

This recording, made in Madrid, features two of the most popular of Spain's exponents of cante flamenco. Now digitally available on the Lyrichord Archive Series, the magnificent recording of Cante flamenco can be fully enjoyed for the first time since the 1960s. In Cante flamenco, the emphasis for the singer is entirely on subtlety of nuance and the variety of emotional expression. Precise intonation and breath control are among the most important demands placed upon the artist, but above all, this recording captures and conveys the true spirit of the Andalusian gypsies and their enthralling musical traditions.


Lyrichord, in association with Multicultural Media, is pleased to present the Lyrichord Archive Series. This new series will make many important Lyrichord recordings of the past available again for the first time in years. These are special-edition compact discs with liner notes. illustrations and photographs reproduced as .pdf files, and included right on the same CD as the audio program. These liner notes can then be downloaded and printed out or saved on any computer.


The Lyrichord Archive Series is designed with students, libraries, educational institutions, music historians and music enthusiasts in mind and is not available in stores. 
---
We Also Recommend
---