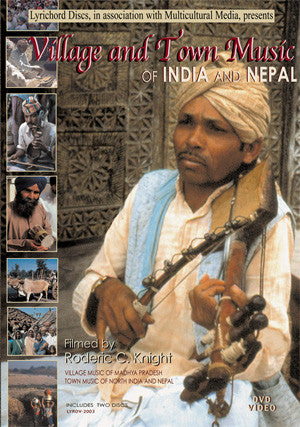 Village and Town Music of India and Nepal
---
---
The forested hills and valleys of the eastern Narmada River in Madhya Pradesh, India attracted Rudyard Kipling a century ago, and more recently, for different reasons, ethnomusicologist Roderic C. Knight. Seeking to document the little-known musics of the region, Knight packed a notebook, movie and still cameras, and a tape recorder onto his motorcycle and sought out the musicians in their villages. The results are presented in these scenes: twelve musical performances and numerous scenes from daily life in 1982. At the time, Super 8 sound movie film was the medium of choice; the digital mini-cam was far in the future. These films, converted to video and digitally edited with the able assistance of Elio Trabal (Oberlin College 2004), capture events of two types: rural music that is today as isolated as it was then, and urban festive music that is as vibrant and current today as it was when filmed.
Accompanying the DVD is a CD-ROM with a 36-page booklet that may be viewed on screen or printed, documenting each event with maps, photographs, information on the cultural and historical setting, song texts and translations, and detailed musical transcriptions for two of the performances (see I-1 and II-4 below). Also included are over fifty supplementary color photographs with captions, suitable for classroom presentation.
Roderic C. Knight is Professor of Ethnomusicology at Oberlin College
Download contents of CD (liner notes 105.25MB .zip) here & (audio files 116.38MB .zip) here
PART I. VILLAGE MUSIC OF MADHYA PRADESH 30:30
Filmed in Dindori District and Jabalpur

1. The Pardhan bana, a three-string fiddle - listen here
2. The Gogia Pardhan bin-baja, a strummed harp
3. Gond Stilt Dance and "Kabadi" game by school boys
4. Gond and Pardhan at work on farms and roads
5. The Ahir algoza, a bamboo fingerhole trumpet
PART II. TOWN MUSIC OF NORTH INDIA AND NEPAL 37:00
Filmed in Nagpur, Raipur, Bhopal, Jabalpur,
Chandigarh, and Kathmandu

1. Daily Work Scenes: carting, threshing, pottery making
2. Itinerant Musicians sing "Matti ke Putle"
3. A Sikh Celebration of Baisakhi: singers with harmonium,
tabla, tumbi, sarangi, and tudd
4. A Sikh Wedding: the street parade, the welcoming - listen here
5. A Gaine Singer of Nepal with sarangi
 Click here for video sample #1.

 Click here for video sample #2.

 Click here for video sample #3.

 Click here for video sample #4.
---
We Also Recommend
---