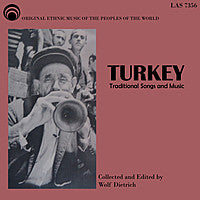 Turkey - Traditional Songs & Music DOWNLOAD ONLY LAS-7356
---
---
Digital Download available from your favorite site including
Part of the Lyrichord Archive Series - Rare Out-of-Print LP Re-Release on Digital Download Only from the Lyrichord vaults
This important recording is a treasury of traditional Turkish music as it is practiced today, presenting a broad range of musical styles, and played on a variety of authentic folk instruments.

Tracks:
1. The Muezzein's call to Prayer - 2:30
2. 'Air' of Lord Hadjibektash Veli - 5:55
3. Improvisation on the Ushak Scale (Taksim) - 3.01
4. Song of Zahida - 4.56
5. Kanun Improvisation and Prelude - 2.51
6. "Young Osman," Janissary March - 2.02
7. Koroglu Melody and Dance - 4.37
8. Rumeli Chiftetelli Dance - 3:01
9. Horon Dance from Artvin - 1:36
10. Melody "for the sheep" (Avshar nomads) - (2:33
11. Shepherd Tune for the Sheep going to Drink - :23
12. Song of Damascene "pistachio " - 2:17
13. The Old Arab Zeybek Dance - 1:17
14. Dance from Harhavi - 3:51

ANNOTATED TRACKS:
1. EZAN Müezzin's call for prayer Mustafa Özdemir (20), voice Recorded 23.IX.

Lyrichord, in association with Multicultural Media, is pleased to present the Lyrichord Archive Series. This series will make many important Lyrichord recordings of the past available again for the first time in years. These are special-edition compact discs with liner notes. illustrations and photographs reproduced as .pdf files, and included right on the same CD as the audio program. These liner notes can then be downloaded and printed out or saved on any computer.

The Lyrichord Archive Series is designed with students, libraries, educational institutions, music historians and music enthusiasts in mind and is not available in stores.
---
We Also Recommend
---