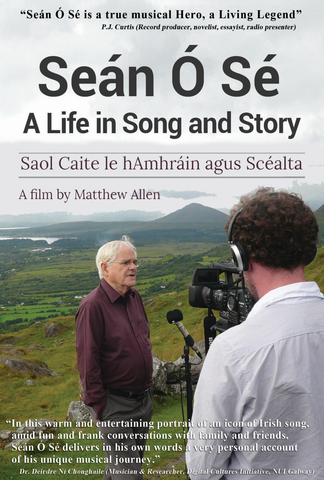 Seán Ó Sé: A Life in Song and Story
---
---
Seán Ó Sé's long and illustrious career as "a giant of Irish music" has touched all bases in the Irish music business. His unique, unforgettable tenor voice was nurtured in a family of singers. Seán's voice first reached a wide audience in Ireland in the 1960s working with composer Seán Ó Riada in the group Ceoltóirí Chualann which catapulted Irish traditional music onto the concert stage and into the international arena. The film explores Seán's musical life within the contexts of his deep attachment to the Irish language, West Cork and the Beara peninsula, and his passion for his career in teaching and education administration in Cork City. The film features live performances and interviews with longtime associates from the worlds of music and education. 
Produced and Directed by Matthew Allen
In English and Irish with subtitles.
Approximate running time, 62 minutes. 
DVD Bonus Features - Short Film Subjects

The Making of the Movie (18:40) – Seán and Matthew discuss how their views of traditional music, authenticity, and musical professionalism changed in the course of making the film
West Cork Vocal Style (22:39) – Seán drops the needle and discusses influential West Cork singers of the early 20th century
The Plenary Indulgence (9:14) – Story told before a live audience in Clonakilty, County Cork
My Father and My Uncle Mort (15:54) – discussion of the two brothers' very different vocal styles
In the Band with Ó Riada (28:12) – Seán's recollections as lead singer for Ceoltóirí Chualann, memories of working closely with Seán Ó Riada through the decade of the 1960s.

"In this warm and entertaining portrait of an icon of Irish song, amid fun and frank conversations with family and friends, Seán Ó Sé delivers in his own words a very personal account of his unique musical journey." - Dr. Deirdre Ní Chonghaile (Musician & Researcher, Digital Cultures Initiative, NUI Galway)
"Seán Ó Sé is a true musical Hero" - P.J. Curtis (Record producer, novelist, essayist, radio presenter)
"An intimate portrayal of one of Ireland's musical giants" - Proinsias Ní Ghráinne (TG4 Tekevision)
---
We Also Recommend
---