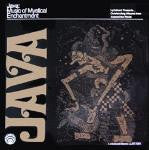 Java: Music of Mystical Enchantment LAS-7301
---
---
Part of the Lyrichord Archive Series - Never before released recordings on CD from the Lyrichord vaults

Traditional Javanese gamelan, including male singing, small gamelan, traditional music used to accompany the slow, stylized movements of the classical Serimpi court dance, and an excerpt of a lengthy bawa, or vocal introduction to a gamelan composition. Recorded by ethnomusicologist Doreen Powers in the field in 1974.

Tracks:
1. Untitled Composition - 2:02
2. Gending Kututmanggung - 18:41
3. Gending Anglirmendung - 17:54
4. Manggala Gita - 3:44


Lyrichord, in association with Multicultural Media, is pleased to present the Lyrichord Archive Series. This series will make many important Lyrichord recordings of the past available again for the first time in years. These are special-edition compact discs with liner notes. illustrations and photographs reproduced as .pdf files, and included right on the same CD as the audio program. These liner notes can then be downloaded and printed out or saved on any computer.

The Lyrichord Archive Series is designed with students, libraries, educational institutions, music historians and music enthusiasts in mind and is not available in stores. 
---
We Also Recommend
---