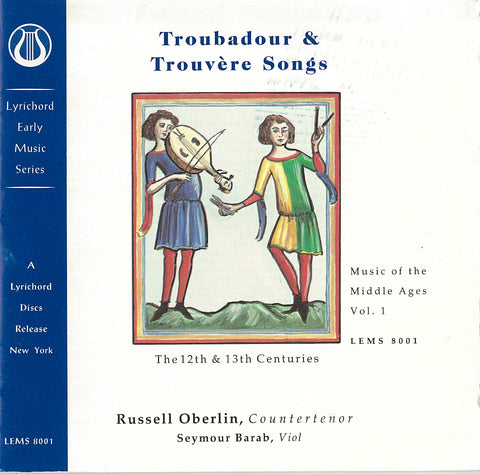 Music of the Middle Ages, Vol. 1: Troubadour and Trouvere Songs (12th and 13th Century) DOWNLOAD ONLY LEMS-8001
---
---
Digital Download available from your favorite site including
Download free liner notes below (Mac users use Ctrl + click)
"Six Chansons Courtoise"
These are the songs of the Troubadours, medieval poet-minstrels of Southern France, and their Northern counterparts the Trouveres. During the two hundred year period of their poetic movement, the Troubadours created what is perhaps the greatest repertory of secular song ever produced in Europe. This is a superlative collection of courtly love songs and laments by some of that era's greatest Troubadours, including Arnaut Daniel, Guiraut de Borniel and others. All exquisitely performed by the legendary countertenor Russell Oberlin, with Seymour Barab on viol, under the direction of Saville Clark.
Includes extensive liner notes by Saville Clark.
Tracks:
1.
Reis Glorios
- 5:21
2.
Ples de tristor, marritz e doloiros
- 12:29
3.
Chanson do-ill mot son plan e prim
- 6:16
4.
Quand Vei La Laudeta Mover
- 8:46
5.
Commensmens de Dolce Saison Bele
- 7:55
6.
Cil Qui d'Amours
- 8:07
Additional Information
See more info on Russell Oberlin on Bach-Cantatas.com
More bio information on Russell Oberlin
---
We Also Recommend
---