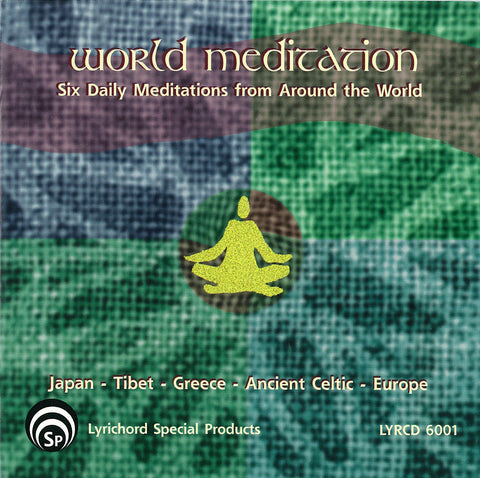 World Meditation: Six Daily Meditations from Around the World DOWNLOAD ONLY LYR-6001
---
---
Digital Download available from your favorite site including
Download free liner notes below (Mac users use Ctrl + click)
Lyrichord has searched its vast World and Early music catalogs and unearthed some of the most powerful meditation music created by the human race in the last 2000 years. This unique collection includes six separate, ten minute transcendental-music backgrounds that have been specially enhanced and edited to maximum effect when used in conjunction with daily meditation. Recorded in remote locations throughout the world, World Meditation includes monastic Gregorian and Greek Orthodox Chant, Japanese Buddhist Bells, Drums and Chants, a Japanese Shakuhachi meditation, Tibetan poly-tonal ritual chant, and a potent Shaman's frame drum meditation by healing-rhythm specialist Randy Crafton.
Tracks:
1.
Meditation One
: Gregorian Chants - 9:57
2.
Meditation Two
: - Chants from the Greek... - 9:55
3.
Meditation Three
: from Japanese... - 10:00
4.
Meditation Four
: from Buddhist Drums,... - 10:00
5.
Meditation Five
: Tibetan Monastic Chanting - 10:00
6.
Meditation Six
: the Shaman's Frame Drum [With Randy Crafton] - 10:00
"...the whole CD is magnificent! Each of the six tracks offers a multitude of opportunity for meditation, creation, evocation and inner inspiration."
- Dr. Noah Young, Ph.D.
Clinical Supervisor, Mental Health and HIV Services - Tarzana Treatment Center and Psychiatric Hospital, Tarzana, California
"The sequence of the meditations provides a fascinating comparison in time and culture moving increasingly inward from thought to feeling to physical sensation."
- Ann Deutsch, RMCS
- Clinical Specialist, Portland, Maine
"I find the new Lyrichord CD, World Meditation, to be a valuable tool in helping my clients explore music's use as a relaxation tool. The CD is well put together and offers diverse selections from several world music traditions. It is ideal for use in many different clinical settings."
- Barry Bernstein, RM-BC -
Director, Healthy Sounds
"These pieces can greatly enhance any method of personal meditation."
The Meditations
Gregorian Chants
For 1500 years the gentle rise and fall of Gregorian Chants sung daily by monks in monasteries all across Europe has symbolized the history of the Western quest for spiritual communion
Chants from the Greek Orthodox Liturgy
Music in the Byzantine church is a blend of Asian, Roman, Hebraic, and early Christian cultures, that creates a sublime form of devotional chant as multi-national as it is ancient.
Japanese Masterpieces for Shakuhachi
The long end-blown, bamboo shakuhachi is an ancient flute of Japan and is the traditional instrument used for Zen meditation. This selection is an example of the most serene and masterful Shakuhachi meditation music ever recorded.
Buddhist Drums, Bells, and Chants
An ethereal and transcendental selection from sacred Buddhist temple ceremonies, recorded on location at an actual temple service in Kyoto, Japan.
Tibetan Monastic Chanting
There are few sounds on earth able to convey the power heard in poly-tonal throat chanting of Tibetan Monks' meditation. This hypnotic repeated chant can create an almost instant sensation of inner calm and heightened inner awareness.
The Shaman's Frame Drum
In the hands of master percussionist and rhythm-healing expert Randy Crafton, the harmonic vibrations of the ancient Celtic frame drum propel the listener into ever deeper states of meditation.
---
We Also Recommend
---